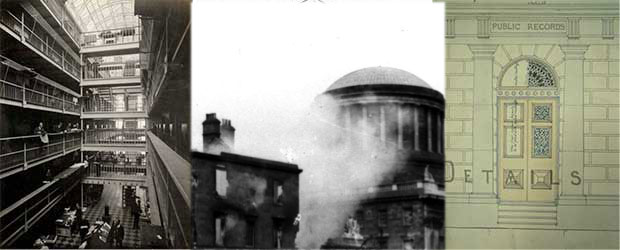 Beyond 2022:

On 30 June 1922 the Treasury Room containing Ireland's documentary heritage dating back to the thirteenth century was destroyed in a cataclysmic explosion and fire at the Four Courts. On the centenary of that blaze in 2022, this project will launch a Virtual Record Treasury that reconstructs the nation's archives and its collective memories.
In partnership with the National Archives of Ireland and other national and international institutions, Beyond 2022 seeks to ensure a lasting and inspirational legacy beyond the current decade of centenaries.

The Virtual Record Treasury
The centrepiece of the project is new an online resource — the Virtual Record Treasury — which will provide a digital reconstruction of the Record Treasury of the Public Record Office of Ireland as it existed in 1922, on the eve of the fire. This will become not only an essential platform for academic research but also a public resource with global reach and impact among the Irish at home and abroad.
The Virtual Record Treasury will provide:
Data visualizations enabling researchers to explore the treasury of the Public Record Office and its collections
A complete inventory of loss and survival from the 1922 fire.
Digitizations of the surviving originals, transcripts and calendars.
Detailed guides to the significance of those collections from the thirteenth century to the Victorian era.
A vital hub linking replacement material held in archival repositories in Ireland and across the world.
Associated researchers: Peter Crooks, David Dickson, Shay Lawless, Micheál Ó Siochrú, Ciarán Wallace.