Sophister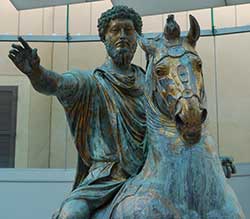 Junior Sophister (Third year)
In the third year students take an interdisciplinary module on the city of Rome: HH 3000 Rome: City, Culture, History
In addition students take modules worth a total 50 credits from a list of those on offer.
It is possible to spend all or part of the second or third year at one of our partner institutions in other countries. Results from these universities are recognised as part of your Trinity degree, so spending time abroad does not lengthen the times needed to obtain a degree. For further details, see the Study Abroad section.
---
Senior Sophister (Fourth year)
In the final year students take two modules (special subjects) and write a dissertation. This enables students to specialise in areas of particular interest to them. The dissertation is completed under the supervision of a member of staff with expertise in the relevant area.