Understanding Ireland:
The Trinity Smart-Start Programme
---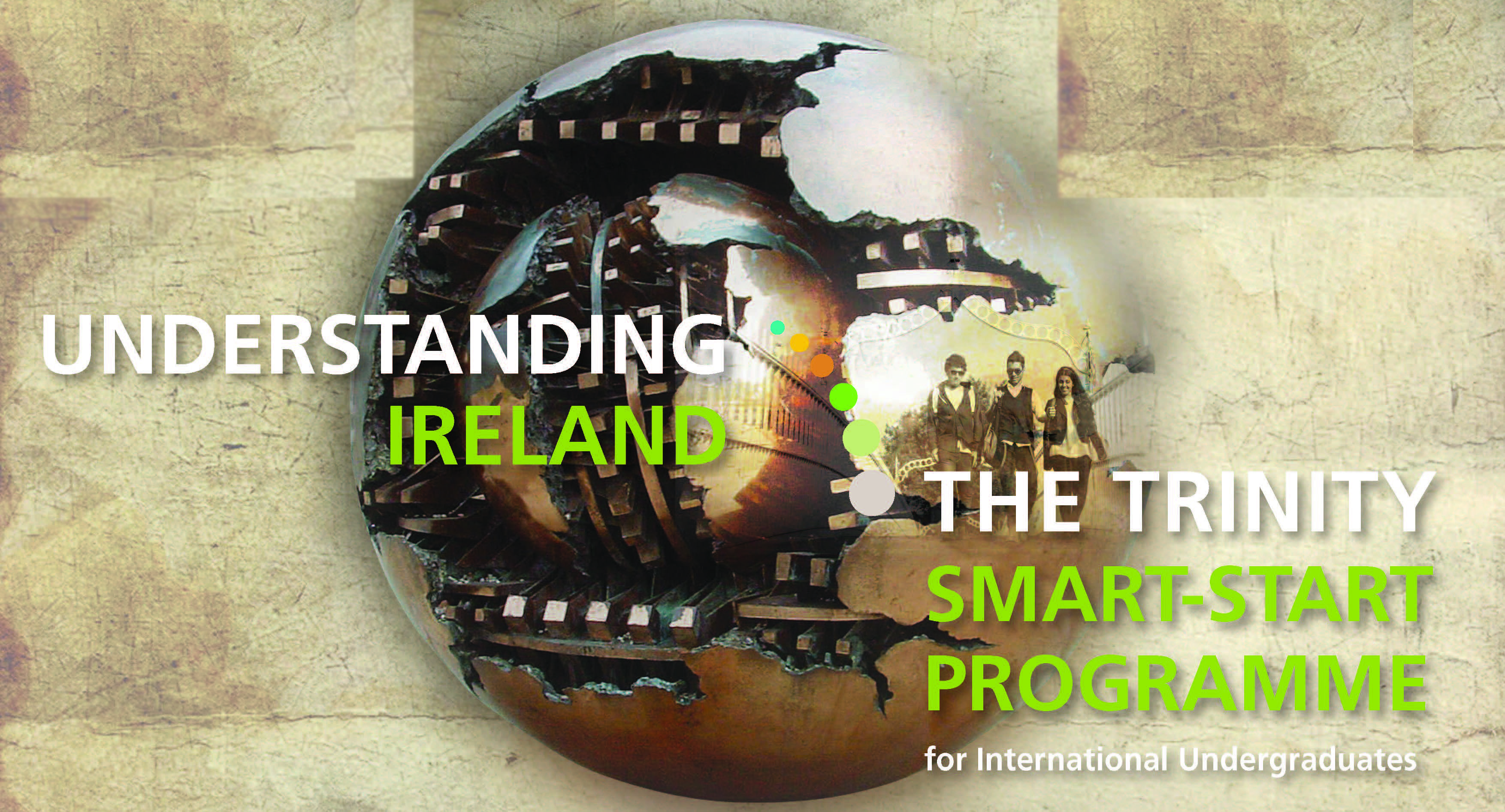 The Trinity Smart-Start Programme is a week-long programme designed specifically for new international undergraduate students. The programme begins one week before Freshers' Week and it provides the perfect introduction to the academic and social life of your new university and the country you will call home for the duration of your degree.
What will I be studying?
---
If you are an international (non-EU) student embarking on an undergraduate career at Trinity College Dublin, then an exciting part of the journey that lies ahead is discovering a new country with a unique academic, cultural and social environment. Understanding Ireland immerses you in the rich world of Irish history, art, literature and film. You will learn about Trinity College, the city of Dublin and Ireland's unique cultural heritage.
At the core of this programme is a lecture series—College, City and Country—consisting of three interlinked multi-disciplinary strands. Students receive lectures in each of the three strands, as follows:
Trinity and its Treasures: An exploration of Trinity's history, its architecture and the treasures of the Old Library, especially the Book of Kells.


Dublin through the Ages: An exploration of Dublin's history from Viking town to modern city


Ireland and the Irish: An exploration of what it means to be Irish as expressed in art, literature and film
What is included?
---
In addition to its core lecture series—College, City and Country—the Smart-Start Programme includes a tour of Trinity's historic city-centre campus, an introduction to our library services, and seminars that will give you a head-start in understanding how to get the most out of your Trinity education.
You will also go on field trips to sites of major cultural and historical importance both in Dublin and outside the city, such as the medieval monastic site at Glendalough.
What our students say
---
'Understanding Ireland was a wonderful way to begin my education at Trinity. Not only did I get a chance to learn about the unique history and culture of Ireland, but I was also able to talk to other students coming from similar backgrounds. The programme furthered my confidence in my decision to study at Trinity.'
- Keelin Shaughnessy, 2014 first-year student from the US
Eligibility
---
All non-EU full-degree undergraduate students entering Trinity for the first time are eligible to attend.
Cost
---
Participation in the Trinity Smart-Start Programme incurs an additional cost of €400.
Accommodation
---
All 1st year non-EU full-degree undergraduate students will be prioritised for accommodation in Trinity-owned or Trinity recommended
Accommodation provided students apply by the housing application deadline. There are a range of accommodation options available.
Accommodation may include but is not limited to Trinity-owned accommodation such as Trinity Hall or Trinity-recommended accommodation at private student complexes.
For all queries regarding accommodation please email residences@tcd.ie.
Dates
---
The Smart-Start Programme will run from Monday 11 September to Friday 15 September 2023. There will be a welcome event on the Monday morning to which family members in Dublin with you will be invited. More information will be sent to you nearer to the time.
***THE CUT OFF DATE FOR APPLICATIONS IS FRIDAY 14 JULY 2023 applications cannot not be accepted after this date.
Further information
---
Academic Director: Dr Sue O'Neill
Programme Coordinator: Dr Patricia Stapleton
For general enquiries and further information, please contact the Understanding Ireland coordinator. A full prospectus, including the module handbook and sample teaching and learning materials, is available in hard and soft copy on request.
Email: pstaple@tcd.ie
Telephone: 00 353 1 896 8589
Web: http://www.tcd.ie/study/international/pre-sesson-programmes/smart-start.php
The Trinity Smart-Start Programme brochure is available online here.